December 10, 2019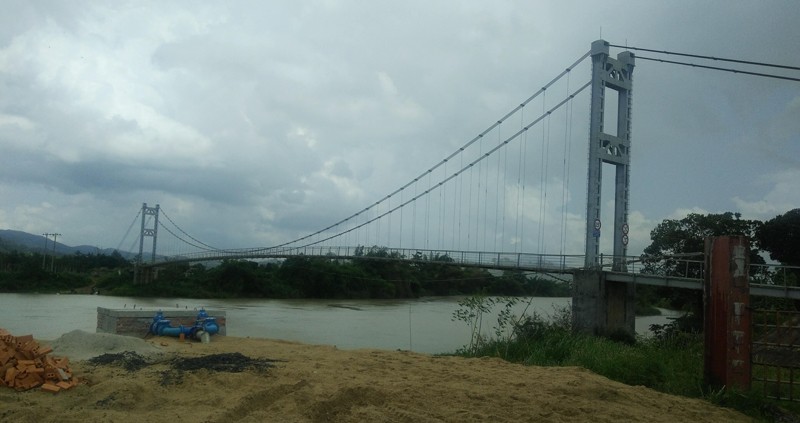 Along the narrow roads along the banks of the Krong No River, the survey team of the Alinco's social activities arrived at the school branch in Plao Sieng village of Hoa Phuong Kindergarten in Ea Rbin Commune, Lak District, Dak Lak Province.
The classroom in Plao Sieng village is old and the paint is peeling.
One hundred (100) pupils, mostly Hmong people in difficult and destitute circumstances, divided into 3 classes. However there are only 2 classrooms in Plao Sieng village, the teachers have to borrow the community house to be 1 temporary classroom. In this class, there is not have both water and toilets to use. When it rains, the water is knee-high, children have to wade to class. The two other classroom are 02 grade 4 rooms that are badly degraded, the walls are soaked with mold. The main door is rusty, the glass is broken. There are no toys for children, only a few simple teaching tools. The toilet is badly degraded.
Although teaching and learning in such a humid and lacking state, it could not stop the joy of go to school of children. Their glittering eyes, bright smiles and their voice - Chirping, cheerful like a flamingo, followed us all the way back.
Wishing to bring them a clean, more comfortable, and better learning condition, Alingroup and the 1 + 1> 2 Architects decided to build a new classroom right on the schoolyard and renovate 2 existing classrooms so that the whole school building is synchronous.
Happiness is sharing. Thus, we would like to spread the program to friends, colleagues, acquaintances and even newcomers to become acquainted, looking forward to receiving more companionship, so that "little birds" can get the nests are really warm..
We highly appreciate all your contributions.
Contribution method:
- School stationery (pencils, crayons, coloring books, ...), preschool toys and books, suitable for kindergarten age.
- Cash: used to build and renovate classrooms, buy teaching equipment, and toys.
Our account for receiving your contribution:
Công Ty TNHH Tư Vấn Thiết Kế Xây Dựng Anh Linh
STK: 300868 Asia Commercial Bank (ACB) - Nguyen Khoai Transaction Office, District 4
* Please clearly write the content "... transfer social activities in Dak Lak" so that we can easily synthesize information.
For further information, please contact: 028 3840 1750 - 0909 851 292 (Ms. Phuong)