On May 15, 2019, the Ascent Garden Home project in District 7, Ho Chi Minh City designed by Alinco, was honored to win the Best Mixed-use Architecture award by the Asia Pacific International Awards - Asia Pacific Property Award 2019 held in Bangkok, Thailand.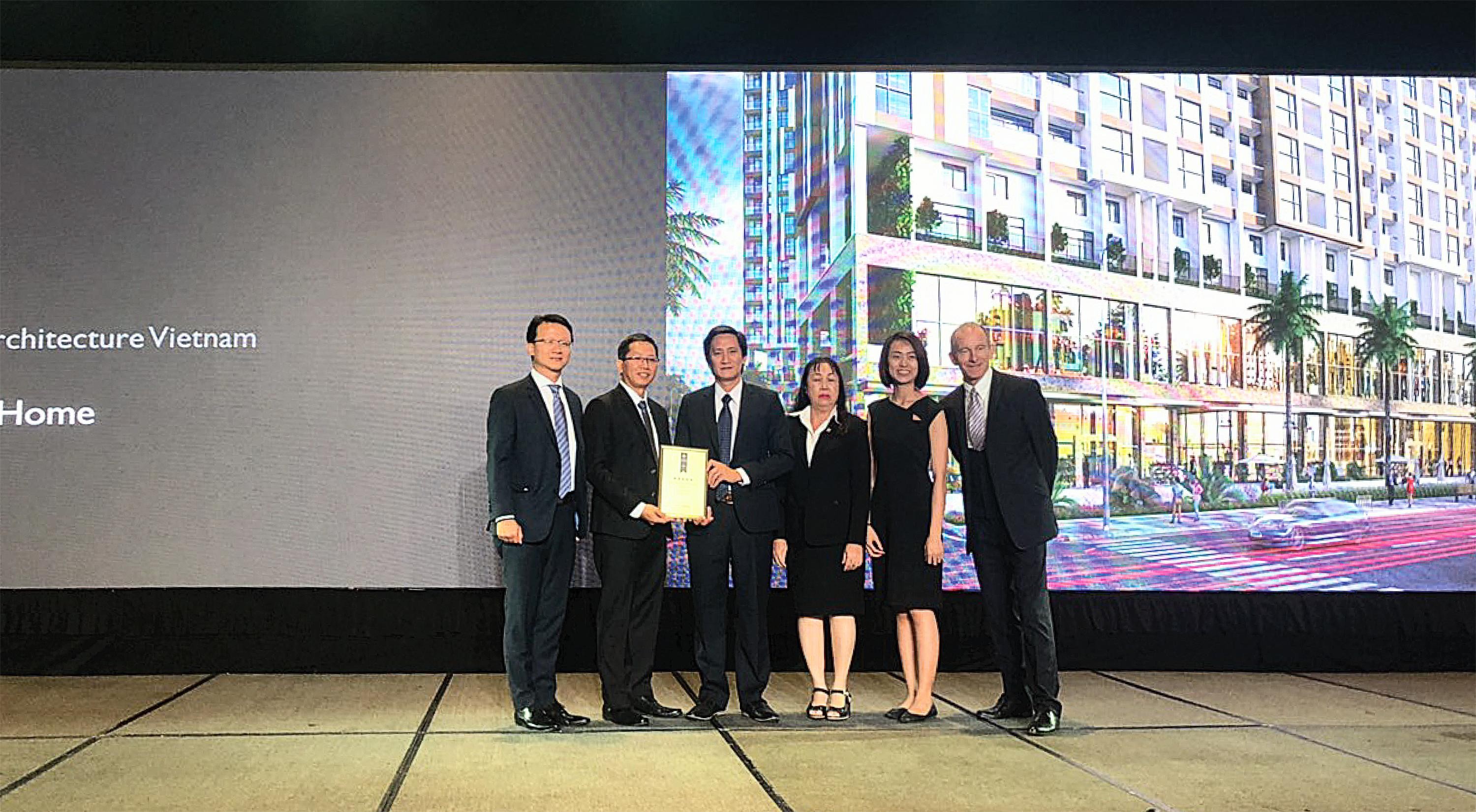 With its unique architectural design, premium quality of service and amenities, and a commitment to sustainability in environmental and social issues, Ascent Garden Homes has persuaded more than 60 experts and independent jury boards of APPA 2019 to become the Best in the Mixed-use Architecture category of Vietnam.
Ascent Garden Homes, a project of Tien Phat Corp., located at the core of Saigon South - District 7 - one of the areas that have become "golden land" in the state of the increasingly scarce land fund and high investment density. Ascent Garden Homes has made a difference and enhanced the added value even though the land area is not too large and the requirement for high floor space is high to meet the increasing demand for high-end home segment customers row.
The project is located near the Saigon River, a complex of commercial centers, offices, apartments and services, including two 21-storey buildings with more than 400 apartments on a land area of ​​10,076 square meters. In addition to optimizing the view of all apartments to meet the requirements of floor space, Ascent Garden Homes is designed to highlight microclimate elements with vertical and horizontal green walls on the building facade. The sky garden is one of the passive sustainable design solutions applied in the project in addition to the harmonious home layout, good ventilation, and energy saving. The project is not only environmentally friendly but also user friendly, reusing water, using green materials. Ascent Garden Homes emerges with high feasibility, efficient development, and sustainability.
All the above factors have helped ALINCO overcome many strong domestic and foreign competitors to be honored with the 5-star award "Best Mixed-use Architecture Vietnam" for the Ascent Garden Homes project.
This success not only recognizes efforts and creativity but also affirms Alinco's reputation and position in the international architecture market, marking remarkable progress to help Alinco elevate Vietnamese architecture in the international market. health. Sustainable design, green architecture and reusable solutions are also long-term directions for ALINCO in the future.
The Asia Pacific Property Awards is a prestigious award within the framework of the International Property Awards to honor the best businesses, residential and commercial real estate projects in the world. This year's award attracts the participation of many countries in the region in categories from real estate developers, development projects, architecture, design, consulting, and interior ... This year, there are 3 representatives of Vietnam honored to receive the 5-star award for the category of Architecture including ALINCO (complex construction), Alpha King (high-rise buildings) and TwoG (office).